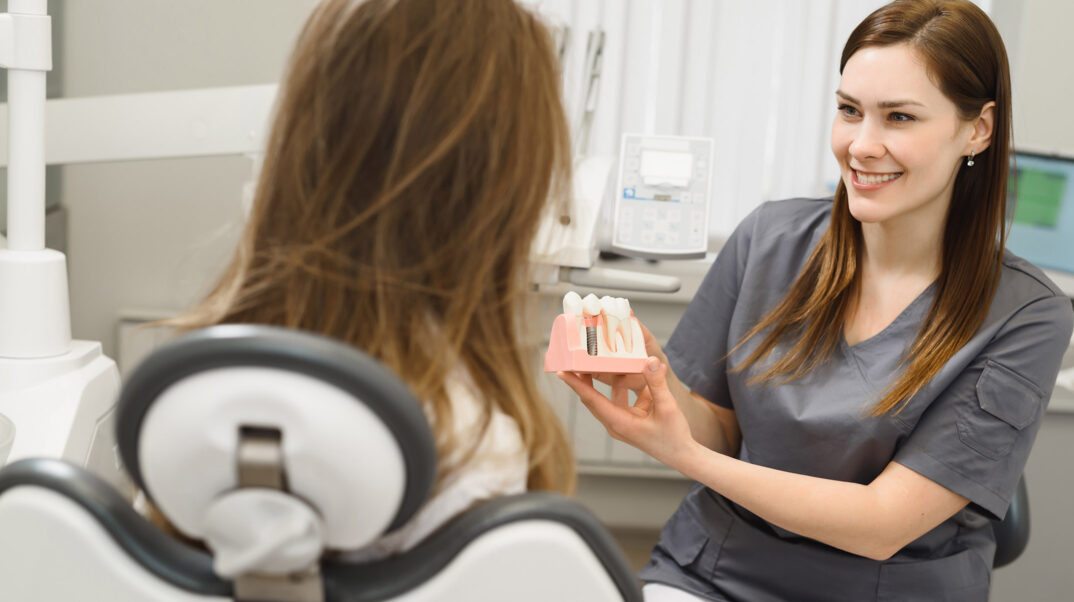 Dental Implants
13th June 2022
What Are Dental Implants?
Dental implants are the ideal solution to replacing one or more missing teeth. Here at Dental 397, we can help you get that confident smile back once again. Our dental implant clinic can offer you a permanent and aesthetic tooth replacement that will make you feel like you have your own tooth back again.
Each small titanium dental implant is an artificial titanium tooth root, which becomes fully integrated into the jawbone. Acting as a part of you, they make a stable foundation for single-tooth crowns, bridges or support and replace all of the teeth in one jaw.
Our dental implants will feel exactly like your own, and they will look it too, giving you the confidence to smile more often.
Free Info Pack
Download A Free Information Pack
A 17 page report full of the most useful information, ideal if you're thinking about replacing missing teeth
The costs and lowest price alternatives
Your options and choices for treatment
Are you suitable for treatment?
Are you a candidate the dental implants?
How does each procedure compare?
Plus lots more…
Will Dental Implants Affect My Other Teeth?
With Dental Implants, healthy neighbouring teeth are not damaged. Tissue and bone structures are maintained, providing you with good facial support. Dental implants in offer a secure solution and are suitable for all ages.
If you are considering dental implants, contact us to arrange an Initial Implant Consultation.
Dental Implants Have Many Advantages
Aesthetics

Aesthetically they can look like a natural tooth and will sit in the gum in the same way as a natural tooth.

Preserve Remaining Teeth

Unlike bridges or dentures, Dental Implants do not require support from other teeth.

Prevent Bone Loss

Having a dental implant in the bone will stop the bone from shrinking and therefore will maintain facial support and structure.

Increase Life Of Remaining Teeth

Dental implants will protect the remaining teeth from excessive forces (by spreading the chewing load) and will stop teeth migrating, tilting and over-erupting.

Fixed

Dental implants are fixed in your mouth and do not require removal as with dentures.

No More Fillings Or Sensitivity

Dental implants will never need a filling or root canal treatment and they will never be sensitive.
When To Have Dental Implants
Dental Implants are the gold standard for tooth replacement in most circumstances where teeth are missing. Dental Implants can be placed on the same day as tooth removal or a long time after the tooth was removed. Dental Implants can be used when just 1 tooth is missing or when a number of teeth are missing or even when there are no teeth at all.
In most cases the Implant placement is extremely quick and practically pain free. In fact most people find implant placement to be a more pleasant procedure than having a tooth removed. If you still feel nervous or apprehensive we can provide you with sedation so that you can be away with the fairies while you have your implants placed.
We will never leave you with a visible gap and will always make sure your smile looks great throughout treatment. At the end of the treatment you will have a brand new tooth that looks, feels and functions exactly like a natural tooth!
Single Tooth Replacement
If only one tooth is missing a single dental implant is the gold standard method of tooth replacement. It will not damage adjacent teeth as with a bridge or denture. It will maintain the positions of the remaining teeth by preventing them moving into the space. It will preserve the bone and therefore help to maintain the gum shape around the teeth and will allow for superior aesthetic results compared to other forms of treatment.
Multiple Teeth Replacement
If more than one tooth has been lost it is possible to have 2 or more implants adjacent to one another. It is also possible to have implants joined together with a bridge so that you do not need an individual implant per tooth.
This procedure can be much more cost effective than individual implant replacements and as the implants join together as a fixed bridge, less surgery is involved. This means minimal cutting of the gums and quicker healing!
Full Arch Dental Implants
If you have lost all your teeth we can provide dental implants to support or anchor a fixed stable permanent aesthetic bridge. The number of dental implants required to support a full arch bridge will depend on the shape and thickness of your jaw bone, the number of teeth required, the type of bridge required and the opposing teeth. A full arch of dental implants can be placed when the teeth have been missing for a long time or when the remaining teeth have failed and require removing. In the latter case it can even be arranged to have the remaining teeth removed and the implants placed all in the same day.
Implant Retained Dentures Or Dental Implant Removable Bridges
Occasionally for some patients for example where there is a history of aggressive gum disease it may be wise to consider a removable bridge supported by dental implants. Foe people with history of gum disease, a removable bridge will be easier to keep clean and also easier to monitor and to maintain the health around your Dental Implants.
Dental Implants Process
Initial Consultation

This is the appointment when we first meet with you. We will discuss your concerns about your teeth and carry out a thorough examination of your mouth including your teeth, gums, jaws, soft tissues and how you bite together (your occlusion). We will also check your jaw joints for range of movements.

We may take some x-rays of your teeth and jaw bone to assess the implant site, to measure the height of bone available for implant placement and to also identify the location of important structures (such as nerves and sinuses) within the jaw bone. Following this, we will discuss all findings with you, your treatment options and likely costs of treatment.

Implant Surgeon Consultation

During this appointment, our Implant Surgeon will carry out an assessment of the future implant site and take some measurements for the future tooth and the bone currently available. In some circumstances it is also necessary to arrange a CBCT (3D) scan if space for the implant is minimal or limited by other structures and it is necessary to assess more accurately the proximity of the important structures and remaining bone in relation to the future implant.

At the end of this appointment your surgeon will go over all the options for treatment and the advantages and disadvantages of each and you can have a detailed discussion about your treatment. Plans can also be made for a temporary tooth replacement so that you never have a visible gap through treatment.

Placement Surgery

On the day of surgery we can arrange for you to watch a movie or listen to music or if you prefer we can provide you with sedation so that you are completely relaxed throughout the surgery.

Dental Implant Placement can either be a 1 step or a 2 step procedure. For the 1 step implant placement, the abutment or healing cap is placed at the same time as the implant. For the 2 step implant placement, the dental implant is placed in the bone and the gum is covered over. The implant is exposed at a later stage and the abutment is attached after healing. The implant is left to integrate (heal) with your jaw bone for 2 months and a temporary tooth prosthesis can always be provided during that time so that you never have a gap.

Abutments Or Healing Caps

If a 2 step procedure was carried out, the implant will be exposed after the 3 month period and the healing caps or abutments will be attached.

Crowns Or Bridges

Impressions are taken for the new implant crown or in the case of multiple teeth the implant bridge once the gums have formed and shaped around the healing caps. All crowns and bridges are made with great detail and attention to achieve a truly tooth like appearance. The most aesthetic porcelains and ceramics are layered using a number of shades to achieve outstanding results.
Back to Blog